Vintage Schwinn bikes are a great way to start your collection of vintage bicycles. Not only do they offer the classic look that is sought after by collectors, but some sell for thousands of dollars. But before you buy or sell one, it's important to know what type of bike you're buying.
Explore the different types of vintage Schwinn bikes, history, and value. As you read on, I promise to give you an idea of how to identify vintage Schwinn bikes and what differentiates them from newer models.
What are Vintage Schwinn bikes?
Vintage Schwinn bikes refer to the set of bikes manufactured by Schwinn Bicycle Company in the 80s, 70s, 60s, and so on. They're not necessarily old, rusty, or worn out. Rather they're simply older than today's bicycles – at least 25 years.
Vintage Schwinn bikes are still in working condition with few or non of their original parts changed or modified. Today, they are becoming more popular with collectors and enthusiasts. They have a unique design and features that distinguish them from other bikes. Some include:
High-rise handlebars
Cantilever frame
Oversized saddles
Chrome mudguards
Spring fork.
Back wheel brake.
Upright geometry
Built-in kickstands.
Balloon tires.
History of vintage Schwinn bikes
The vintage Schwinn bike story began in 1895 when Ignaz Schwinn partnered with Adolf Arnold to found the Arnold Schwinn & Company bicycle manufacturing company. The company released its first catalog that same year, containing four safety bicycle models, including two for everyday use and two for cycling.
The advent of motorcycles and cars during the early 20th century led to a decline in bicycle sales. In 1908, Arnold sold off his shares of the company to Schwinn, who continued to produce bicycles. After the Great Recession, Arnold turned over operations to his son, Frank.
Under Frank's leadership, the company began producing high-quality bicycles for kids. He also started the US bicycle revolution, introducing features like balloon tires, coaster brakes, and sturdy lightweight frames. This increased the company's sales 20-fold during the 30s.
In 1939, Schwinn introduced the Paramount model, featuring an innovative lightweight frame made from steel tubing. The Paramount Racer shook up the industry while establishing the brand as one of America's most respected manufacturers.
After the second world war, Schwinn went on to produce iconic bikes for women and children, such as Hollywood and Jaguar. Other popular models included the Corvette and Panther. Top celebrities and youths of the era favored these middleweight bikes.
Schwinn was at the forefront of innovation, introducing the instant-hits Black Phantom and Stingray. The Phantom carried fancy chrome fenders with built-in light, a horn button on the tank, a spring fork, and white wall tires.
The Stingray featured highrise handlebars, long seats, smaller frames, and wheels. Al Fritz introduced the design to the board in 1962. It immediately caught on, with over 42 thousand units sold by 1964. The Black Phantom and Stingray are collectible items to this day.
How to identify vintage Schwinn bikes
You can get your hands on a vintage Schwinn bike at a flea market, garage sale, antique store, or online auction site. If you find it at a yard sale, ask if you can test it. You don't want to pay too much money for something that doesn't work. How do you tell if it's a vintage Schwinn bike?
Identifying vintage Schwinn bikes through the company's branding.
You can spot a vintage Schwinn by looking for the "Schwinn" head badge. Depending on its production year, it's usually in different shapes and sizes. You can find the logo screwed to the head tube on most bikes. However, there's been slight changes in the logo throughout the years, so you might want to familiarize yourself with them.
But you shouldn't dismiss a Schwinn bike as not being a vintage model if it doesn't carry the company's logo. Models made during the 1950s were either unbranded or rebranded under the other brand names.
Decal-based branding is also common among Schwinn bikes. You can find these decals on the frame, seat post, and handlebars.
Identifying Schwinn bikes through to design
The shape and size of the frame will help you determine whether a bike is old or new. Older Schwinn frames tend to be curvy with rounded edges. Other distinctive features include:
Baloon style heavy-duty frame: Vintage Schwinn bikes usually have an arching bar at the frame's center. But you'll find different designs in models like the 10-speed and mountain bikes.
Baloon tires: Most vintage Schwinn bikes have balloon tires. They're very similar to modern tubular tires, except they're wider, providing better traction on sand. It's why Schwinns are called beach cruisers.
Wide seats: A vintage Schwinn has a wide seat, which provides extra comfort when riding long distances. These seats usually range between 10 and 12 inches wide to accommodate most bottom sizes.
Identifying Schwinn bikes serial numbers
Serial numbers are another way to distinguish vintage Schwinn bikes. The only problem is that they weren't always printed on every model, and others came with different numbering systems. Here's how to identify the number on a Schwinn bicycle:
For bikes manufactured before 1948
These are the first set of bikes from the manufacturer with serial numbers falling B12818 or Z12993. Most of the records from this era were lost to a factory fire, so you may find it difficult to validate them.
Vintage Schwinn bikes made between 1949 – 1959
This set of bikes carries an alphabet followed by a four or five-digit number. For example, a bike produced in 1951 would have a serial number like H35061 or J5733. You can spot them either at the back drop out where the axle goes through the rear wheel hub or under the bottom brackets or crank hangers.
Schwinns manufactured between 1959 and 1964
You can spot the serial numbers of this set at the right rear axle mount of the bike. They typically begin with an alphabet signifying the production month, starting with "A" for January. A digit follows this to represent the year it was manufactured (9=1959, 0=1960, 1=1961, 2=1962).
For bikes manufactured from 1965 to 1982
The company adopted a different numbering system for these bikes. While the first letter still represents the month of production, the second letter now denotes the year. So the serial number of a bike produced in February 1965 would begin with BA. Then, that of April 1967 corresponds to DC.
The serial numbers are either at the right rear axle or the lower head tube above the bike's front wheel.
Identifying Le Tour or Super Le Tour Schwinn models – 1972 to 1986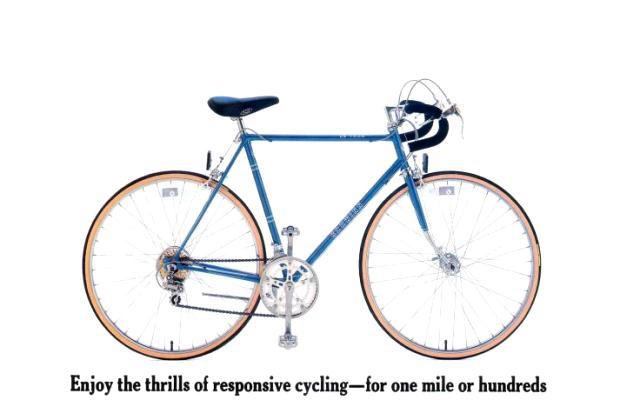 This set of bicycles came with an "S" prefix on their serial numbers. It also carries an alphabet in the second position signifying the month of manufacture. Then a number follows in the third position, corresponding to the production year.
Serial number lookup sites
If your serial number doesn't match the ones I've explained, you can use a lookup site to identify your bike. Notable sites include:
 Identifying different types of vintage Schwinn bikes
There are many kinds of vintage Schwinn bicycles available today. Bikehistory.org lists over 65 models based on data from old catalogs. I'll highlight the most popular ones here.
Schwinn Sting-ray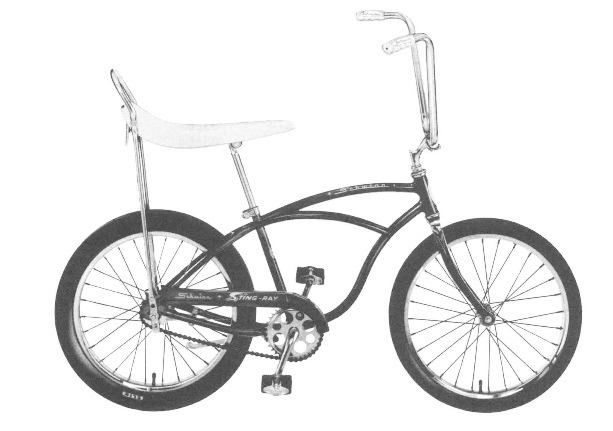 Short frame, banana seats, and a high-rise handle, the Sting-ray certainly looks like something from the future. This new design captured the imagination of many youngsters across the USA. The Stingray carries exciting feature combinations that allow you to make fast starts, quick maneuvers, and short radius turns.
The Sting-ray also comes in different styles ranging from 2-speed to 2-5. The most notable variations include:
Classic
Fastback
Krate
Chopper
Deluxe
When Schinn's director of research and development, Al Fritz, first pitched the design to the board, they laughed at its weirdness. Little did they know that it would become one of the most popular models ever produced.
The Sting-ray first came out in 1963 and sold over 43,000 copies within months. The popularity of the model continued throughout the 1960s and 1970s. By 1982, the company discontinued the model due to issues with the tire suppliers. However, it had established itself as the bike that revolutionized cycling.
Overall, the Stingray is a collector's item because of its cool looks and historical significance. Plus, it helped pave the way for other successful designs.
Schwinn Black Phantom
Tagged "the most beautiful bicycle in America," the Black Phantom was introduced in 1950 and quickly became a hit. Its sleek lines and graceful curves made it a favorite among men and women. In addition to being a great-looking bike, the Phantom offered a smooth ride and excellent handling.
The Phantom remains desirable and collectible. Plus, fans have spotted it in movies such as Pee Wee's Big Adventure and Hearts in Atlantis. It's probably the most treasured vintage Schwinn bike around.
You can spot a Phantom through its spring-padded seats, white-wall tires, rear carrier, and chrome steel fenders with built-in lights.
Schwinn Paramount
Introduced in 1939, the Paramount marked the era of Scwhinn's dominance in the race track, becoming the most successful 20th-century racing bike. Its unique fork configuration made the Paramount ideal for touring, road, or track racing.
While each model shared close attention to quality workmanship, the Paramount stood apart thanks to its lightweight Chrome Moly seamless drawn tubing frame and top-of-the-line components.
You can easily identify a Paramount from its head badge. It has the name boldly written at the bottom curve. It also has a diamond-shaped frame with raised seats to boost endurance during long riders.
Having a vintage Schwinn Paramount is a dream come true for any cyclist who loves speed.
Schwinn Jaguar
Schwinn launched this stylish cruiser in 1954. The design appealed to urban cyclists who wanted a comfortable and easy-to-ride bike with its three-speed gears and handbrakes. The Jaguar is still in demand today. You'll often see it on display at antique shops.
Schwinn manufactured the Jaguar using a chrome-moly steel frame. They later replaced it with an electro-forged cantilever frame in the late 1960s. Whichever model of the Jaguar you have, it will always remain a classic.
Identifying vintage Schwinn bikes from old catalogs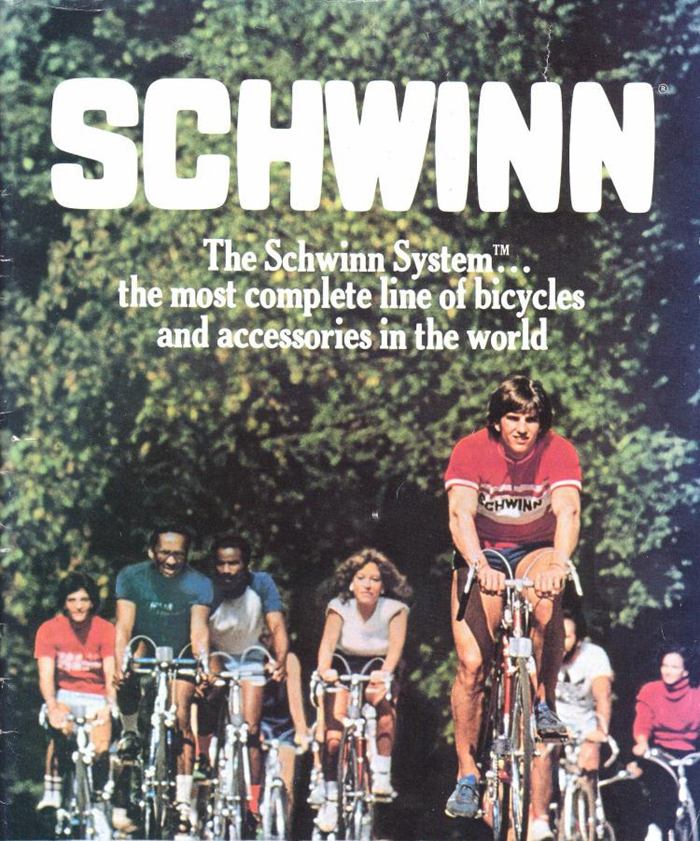 Another way to determine a vintage Schwinn is by looking up the physical appearance through old catalogs. Schwinn published these catalogs every year between 1899 and 1988. They contained information about the bicycles and pictures so you could see what they looked like.
Sites like bikehistory.org and oldroads.com contain many of the original catalogs. You can also use Pinterest.com to search for vintage Schwinn catalogs.
Assessing the value of vintage Schwinn bikes
Knowing the value of vintage Schwinns can help shape your decision when buying or selling one. There are several factors to consider when valuing a bike, such as :
Frame condition
Frame condition affects how much a bike is worth. If the frame is rusted, dented, or otherwise damaged, it may be challenging to sell it. However, if the frame is in good condition, then the bike will likely fetch more money than other similar bikes.
Serial number
Each Schwinn model had its own identifying number, usually stamped into different parts depending on the model and production year. Knowing this number can help you determine the value of your bike.
For example, bikes with the "A1" prefix stamped on the right rear axle mount came out in January 1961. So you can compare yours to models made during that time.
Paint condition
Another way to determine the condition of your Schwinn bike is to look at the paint. A bike that wears new paint will probably fetch less money. In contrast, a bike with its original factory paint may go for hundreds or thousands of dollars.
Wheels/Tires, brakes, and spokes
Bikes that still carry the original wheels, tires, and brakes tend to fetch higher prices. Wheels and tires are significant because they affect how the bike fares on different terrains.
Model
If you can identify the model of your bike, then you'll know what kind of Schwinn it is. This information can help you determine whether it's worth more or less than other models. You can compare your bike to models on old catalogs like the ones on Waterford Bikes.
Overall Appearance
Finally, you need to consider the overall condition of the bike.
Is it rusty?
Does it have any missing components?
Are the tires worn out?
All of these things will affect the value of the bike. In mint condition, a vintage Schwinn might be worth $200-$4000, while in rough shape, it might not worth much.
Compare to recently sold pieces.
It's also helpful to compare your bike to recent sales of similar items. Look up eBay auctions for Schwinn bicycles. Compare the asking price with the actual sale price. Someone may have purchased the type of bike you want to get. You can begin your search with this recently-sold list.
Where to sell or buy vintage Schwinn bike
Vintage Schwinn bikes are undoubtedly beautiful objects that deserve to live in someone's home. But unless they're in great shape, they won't bring as much money as their newer counterparts.
Online auction sites like eBay are the best places to buy or sell vintage Schwinn bikes. These sites allow buyers and sellers to meet each other without traveling anywhere. They also provide a record of transactions for future reference.
Another place to buy or sell your Schwinn bike is on Craigslist for Facebook. Many people collect vintage Schwinn bikes and would love to add yours to their collection. Just ask for the bike's condition or see clear pictures to know what you're getting before making payments.
Amazon is another platform to get your hands on a Schwinn. However, you won't find vintage models but retro-modern ones. This option is ideal if you can't find vintage Schwinn bikes in good condition on eBay, Craiglist, and Facebook.
There are also reputable online resources where you can find vintage Schwinn bikes in good condition. For example, Classic Rendezvous has an extensive database of Schwinn catalogs up till 1983.
Other reputable online resources include
Bike Radar
Schwinn Bike Forum
Bicycle Blue Book
Vintage Schwinn Bicycles
Cycle Chat
Why should I buy a vintage Schwinn bike – the pros
Buying a vintage Schwinn bike isn't just about owning something unique. It also has that nostalgic effect. When you ride a vintage Schwinn bike, you feel connected to a simpler time when owning one defined childhood. Here are some reasons why you should own a vintage Schwinn.
Strong build quality
Vintage Schwinn bikes have sturdy frames made out of heavy-duty steel tubing. This is because Schwinn wanted to ensure that their bikes could withstand rough terrain and extreme weather.
Cool Retro style
If you want a cool retro look, then vintage Schwinn bikes are the way to go. Their design is timeless and classic. You'll always look stylish riding one.
Easy maintenance
Unlike modern bicycles, which require regular tune-ups, vintage Schwinn bikes need minimal maintenance. In fact, you can easily clean them yourself. All you need to do is wipe off dirt and grime using a soft cloth.
No rusting
Vintage Schwinn bikes hardly rust compared to the modern variations. The company used only high-quality materials during manufacturing. Thus, a vintage Schwinn can remain rust-free even after years of use.
They're versatile
A vintage Schwinn is perfect for running errands, commuting, and going for leisurely rides. Unlike modern bicycles designed with specific purposes in mind, vintage Schwinn bikes are flexible enough to handle almost any task.
Comfy rides
A classic Schwinn comes with oversized saddles, tires, and high-rise handlebars. These features ensure you have a comfortable ride.
Great for small riders
If you want to get one for your child, then a vintage Schwinn is the best choice. Schwinn designed most of them for smaller riders, so they won't put too much stress on your back while riding.
What are the downsides of owning a vintage Schwinn bike
You may choose to hold your vintage Schwinn bike as a collector's item. But this doesn't mean that you shouldn't consider its practical uses. Here are some things you should keep in mind before purchasing a vintage Schwinn bike.
Replacement parts are hard to find
Vintage Schwinn bikes came out of the factories over 25 years ago, so spare parts are rare. If your vintage Schwinn bike ever breaks down, you might not be able to fix it. That's unless you inquire about replacement parts from Schwinn.
Can't easily accessorize
These bikes are "vintage" for a reason. Getting accessories like lights, fenders, and racks for these bikes is near impossible. This is because most parts in the market will only fit newer models.
Final Thoughts
A Schwinn bicycle was once considered a status symbol. People would choose a Schwinn bicycle over other brands because it represents quality, innovation, and style.
While the company focused on adult riders throughout its history, Schwinn also made bicycles for children. This formed the basis of so many fond childhood memories for people worldwide. In fact, this helped create the cycling culture in America.