Rare jewelry often comes in beautiful compact jewelry boxes. Depending on the size or collection of the jewelry, the box could be small, medium, or large.
Every lady deserves to be gifted antique and vintage jewelry boxes regardless of whether or not they own one already. Jewelry boxes, otherwise known as treasure chests, jewelry presentation boxes, or jewelry trunks, are valuable collectibles that serve the function of safekeeping or holding valuable jewelry pieces.
Families exchange jewelry boxes during auspicious ceremonies; the same way friends present gifts to themselves in vintage or antique boxes. Jewelry collectors are also known to display their vintage jewelry collections in ancient trunks, not because it is practical but because it makes antique jewelry more appealing and attractive.
In this "not-so-lengthy" post, we delve into the rich background of jewelry boxes, explore their various styles and brands, and study how they've served as an authentic source of art and wealth for decades.
The History of Antique Jewelry Box
Jewelry has been available for thousands of years. It can be traced to the Stone age, when the Neanderthals cut and molded anything possible into fanciful ornaments. This created a need for storage containers to hold these precious adornments.
The first jewelry box ever made is not as old as the first jewelry. Experts have been unable to accurately set a timeline for these treasure holders due to the lack of tangible information. The widespread assumption states that jewelry boxes came to be as soon as humans evolved enough to make tools and adopt skills to create them.
Irrespective that the first inventor of jewelry chests is unknown, the boxes have been regarded as history pieces. These caskets or trunks tell a story about royals, aristocrats, and even artisans at different points in time. These ivory, silver, and golden boxes are more or less custodians of history.
Many sentiments and values went into creating these antique and vintage boxes thousands of years ago. With time, they have been molded and crafted into perfection. In fact, some jewelry boxes are much more valuable than the jewelry they protect, but not everyone can tell.
Here is a throwback of how the antique and vintage jewelry box we know now came to be.
The first key player in this timeline is Henry Tudor, a 16th-century royal. During his time, Tudor was famed for his pastime of wooing his many love interests with presents, specifically jewelry pieces. Tudor employed several artisans and craftsmen to create timeless pieces of jewelry. To satisfy the king, a lot of effort went into the jewelry and the box containing them.
These 16th-century jewelry boxes were identical to the Nuremberg jewelry box. All made from finely-wrought metal. Velvet and leather-line interiors were used to line the airtight containers to protect the jewels from pollutants. Fine and rare gems were also encrusted into these boxes.
Two centuries later, the trinket box was introduced. The reign of Queen Victoria of England brought about many styles and designs of jewelry. It's not surprising that the Victorians also improved the existing jewelry boxes. The trinket box is petite in size and has floral Motifs as designs. You can also see figures of children on these mantles.
In addition to jewelry, the Victorian artisans produced miniature replicas of furniture like bureaus, cupboards, and cabinets. Some of these small objects were large enough to contain a few pieces of valuable jewels and jewelry.
In the 19th century, the most original discovery emerged. A Swiss watchmaker named Antoine Favre launched the newest rage in the form of musical jewelry boxes. In 1502, these boxes were solely created for members of royalty and high society. In 1865, another Swiss watchmaker (I know you think that watchmakers were the creative artisans during the old times, I also am), Charles Reuge, modified the music box to serve as jewelry containers.
The industrial revolution years later put a stop to the limited production of jewelry boxes. The mass production of these ornaments and jewelry caskets or trunks made them accessible and affordable for the middle class.
Today, these boxes have been reinvented in various styles, shapes, and sizes. They are not as treasured as they once were, but antique collectors and owners like you could put the work in to ensure these chests remain the custodians of history.
Identifying Antique and Vintage Jewelry Box
Antique and vintage boxes are easy to miss.
Do you have a jewelry chest in your possession, and you're on a mission to determine whether or not the piece is antique or vintage? Perhaps you're in the market for authentic vintage and antique jewelry chest, and you're confused. Here are not-so-obvious pointers you could check to confirm.
Before I list these pointers, let's refresh our minds on the difference between an antique jewelry box and a vintage jewelry box.
Generally, antiques are very old items manufactured at least one hundred years ago. From the history of jewelry boxes, the Art Nouveau and the Edwardian pieces belong to this group. On the other hand, vintage jewelry boxes are at least 20 years old. They are mostly the oldest products produced by a manufacturer within the latest century. They include boxes from the 1920 Art Deco era to the 1990s.
The Jewelry box Style
This is the first giveaway. The first thing you notice about a jewelry box is its style. If the style corresponds with a specific time in the history of jewelry boxes, then you may have an antique. You compare the style of the box with the various eras in the past, that is, the Victorian, Edwardian, Art Nouveau, Art Deco, and Retro Era in the 1930s. The different periods had unique styles that combined different shapes and materials.
The Manufacturing method
Each era had its unique manufacturing method. In the early days, artisans took time to add fine details and components to the jewelry uniquely. These features are a telltale about the date of production. For example, in the 1900s, hand engravings on jewelry boxes were very common. Victorian Jewelry chests can be identified by the white gold intricate designs used.
Eve. The Stone cuts on jewelry boxes tell a story about how machine stone cutting was carried out.
Manufacturer or Artisan's Stamp
Jewelry and jewelry boxes manufacturers have a common practice of subtly placing their marks on various spots on the boxes. These stamps, trademarks, signs, or hallmarks can be used to ascertain the origin of a treasure chest, and some even tell the year the box was created.
Hallmarks and stamps change over time. Identifying a logo on a jewelry box takes you a step closer to telling whether you have the right thing or not.
Is It Really Vintage?
To some, this might seem like a weird question, but articles like "making new wooden chests look old, vintage, or antique" point out that a jewelry chest produced today could effortlessly be made identical to an antique.
Some antique collectors and jewelers, past and present, are guilty of purchasing boxes and having their names or hallmarks printed within or around them. The packages get purchased by unsuspecting novice collectors. So, you see, it's not a bad thing to ask if a jewelry box is really vintage.
Antique and vintage jewelry trunks are very special and valuable. Each of these old pieces is a work of art that has stood the test of time for decades and even centuries. To confirm if your jewelry box is really vintage, you can contact antique appraisers on websites like
You can also purchase or rent out antique reference guides to confirm whether or not the jewelry boxes are really vintage. Brick-and-mortar antique stores could also have an on-site appraiser you can hire for this.
Remember that vintage jewelry boxes can be replicated, but authentic pieces are often incomparable with fakes. There's no way a replica can possess all the features of the old-fashioned handcrafted boxes. Of course, it might not be easy to tell, but with the right help, you'll be able to determine the legitimacy of a so-called antique piece.
Types Of Antique And Vintage Jewelry Boxes
Antique and Vintage Jewelry boxes come in numerous sizes, shapes and designs. Some are so petite that they can only take a few jewelry pieces, while some are big enough to hold thousands of jewels and jewelry. For more clarity, I have grouped the types of antique and vintage jewelry boxes based on their materials and styles.
Types Of Materials Antique And Vintage Jewelry Boxes
Jewelry boxes come in wooden, brass, antimonial lead, metal, and other artificial materials like ivory, alabaster, bone, and horn.
The inner compartments were sometimes lined with leather or velvet. Rare jewelry boxes were coated with gold or silver finishes, while a few were electroplated with copper.
Metal Jewelry Boxes
There are various forms of metals, including silver, steel, gold, and bronze. These have been used over time to create jewelry boxes for different cultures. The developed skills that blossomed during and after the industrial revolution helped artisans create beautiful jewelry boxes across all genres and sizes.
The history books point out that metal jewelry boxes really became a thing during the Art Nouveau era, that is, between 1890 and 1910. They've remained popular since then. These metal boxes for holding jewelry are not often plain. Most vintage and antique jewelry boxes are designed with floral Motifs and nature figures. The most common style for designing Art Nouveau jewelry boxes decades ago involved hand drawing female figures with long flowing hair on the sides or front of the box.
Other standard metals used for vintage and antique boxes include copper, ivory enamel, zinc-based alloy, and electroplated gold, or Ormolu.
The durability of metal jewelry boxes depends on the metal materials used, as well as other materials mixed in. Many of these boxes from the art nouveau era are rare due to low maintenance. Quite a number of these boxes from that era have broken hinges, worn finishes, or bad locks. It is very rare to see good working metal jewelry boxes in good working conditions that haven't been repaired or replicated. Some jewelry boxes were made as a set, with the antique dresser being the second item.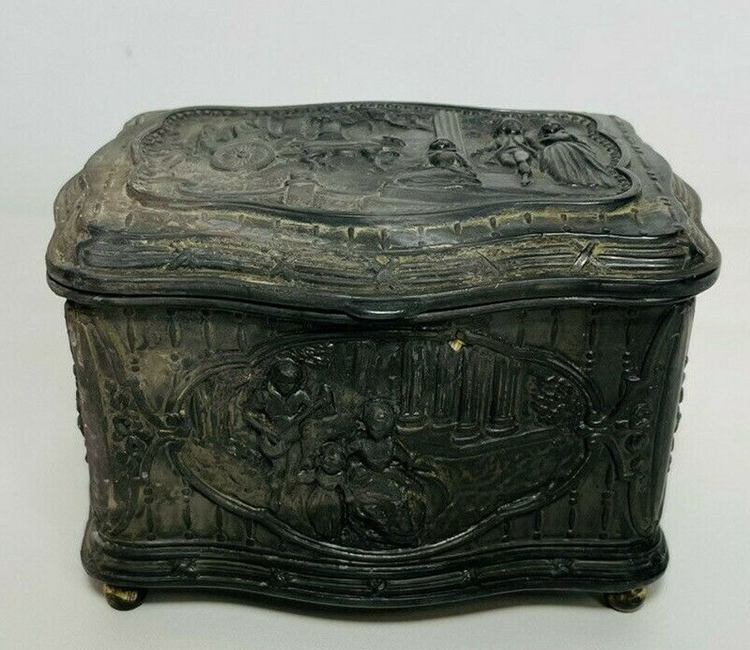 Wooden Jewelry Boxes
I can bet the first jewelry box ever created was a wooden one. Even in fairy tales, pirate movies, and regular movies, jewelry boxes or treasure chests often coke in the form of wooden boxes.
Wood is a versatile, flexible, affordable, and accessible material. Hence, it is not surprising that jewelry boxes made of wood have been available through several periods and styles.  In the 17th century, they had the marquetry strong box to serve as a jewelry box. Fast-forward to Alexandre Noll's sensuous Mid-century carved wooden jewelry box.
Most of the jewelry boxes from the old times still standing today have wooden materials.
Some of these boxes have enamel designs showcasing landscapes and floral designs. The value of wooden jewelry boxes depends on their finishes and size. An averagely sized wooden jewelry box could cost from $200 upwards.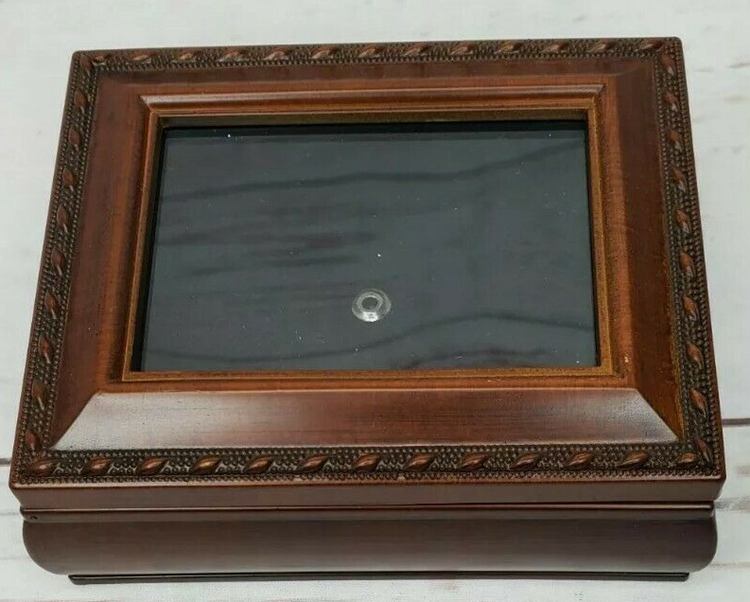 Tramp Jewelry Boxes
These unique boxes are made from a combination of fragile materials like shells, pebbles, glass, nails, and even screws. Vintage and antique jewelry boxes made with tramp art were created in the late 1800s and during World War II. They are extremely rare because there is only one design for each. If you find yourself a tramp art jewelry box in working condition, you may have found yourself a valuable treasure. It is essential to point out that they are very delicate and should be treated as such.
Types Of Antique And Vintage Jewelry Boxes By Function
Jewelry boxes can be classified based on their functionality. Of course, the beauty of the box matters, but the main purpose of the box is primary.
The functionality of a jewelry box can be tied to its size.  Some boxes could be outstanding and appealing, but if they're not in the right size or have the required number of storage compartments to protect your jewelry, they'll be of no use.
The general function of jewelry boxes is to hold prized jewelry pieces and protect them from environmental elements and theft. Some people group their jewels practically and prefer not to have them all in the same trunk. Your jewelry collection determines your overall decision to keep, sell, or use a jewelry box.
Jewelry boxes come in very small sizes with only one compartment to very large sizes with many chambers or separators. The storage space of a jewelry box often determines its function.
Ring boxes
These are boxes designed to hold as many as 20 rings. They're often designed to be slim and narrow, depending on the number of rings they can contain. Some come with individual slots for the rings to stand upright. If you have an extensive antique or vintage ring collection, this jewelry box will maintain the rings and save them from scratches.
Necklace boxes
These types of jewelry boxes were produced in different sizes and shapes. Gold and silver finishes were used on metal or wooden necklace boxes decades ago.
Earring Boxes
Like the other small boxes, earring boxes also come in different sizes. Some can hold only a single pair, while some are wide enough to contain 20 pairs or more.
Bracelet and Bangle boxes
These are relatively sized square or rectangular boxes. Within vintage bracelets and bangle boxes, there is leather or velvet to protect the jewelry and keep them in place.
Gift Jewelry Boxes
These vary in size. They were used in the old times for royal weddings. They contained gifts of precious gems and jewelry collections from the besotted to the object of interest. These boxes have different numbers of compartments and can hold hundreds of pieces of jewelry, depending on their sizes. They are popularly known as treasure chests. A few of these boxes can be wall-mounted.
Popular Manufacturers Antique And Vintage Jewelry Boxes
Charles Reuge may as well be the first manufacturer of the original jewelry boxes since he modified Antonio Favre's music box.  However, since this ingenious creation was produced in the 19th century, different manufacturing companies have creatively designed theirs.
Notable brands that have their marks on rare, valuable antique and vintage jewelry boxes across all regions of the world include the Jennings Brothers, Weidlich Brothers, NB Rogers, Brainard and Wilson, Kronheimer, and Oldenbusch, Art Metal Works, Benedict, and a few other European companies.
Jennings Brothers
This Connecticut company was founded in 1891. Their most popular products include their uniquely designed metal jewelry chests. These jewelry boxes were created after the trending Nouveau Art style between the late 1800s and mid-1900s.
Weidlich Brothers
The Weidlich Brothers created timeless pieces in the early 1900s. Their jewelry chests were mainly gold-plated and decorated with nature motifs. They marked their chests often on the bottom of the box with their initials "WB."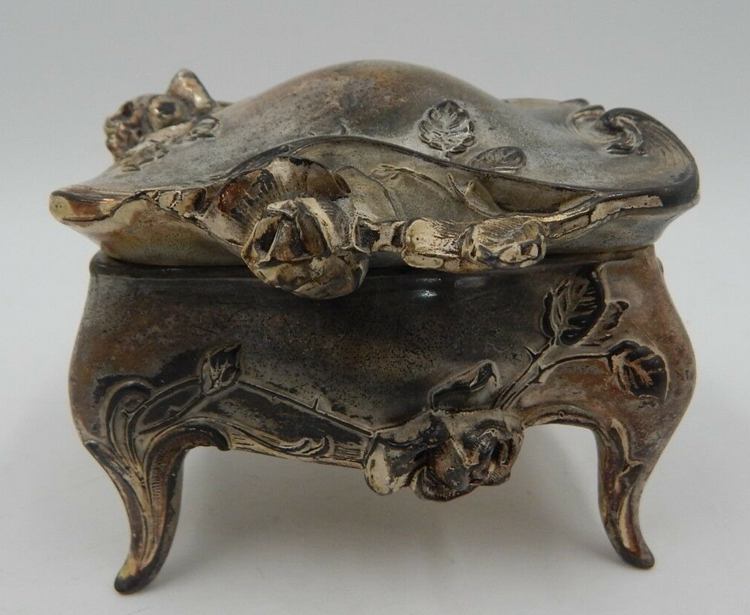 Kronheimer and Oldenbusch focused more on making metal jewelry boxes with minimal designs, while Brainard and Wilson marked their jewelry boxes with their initials "BW."
Assessing Antique and Vintage Jewelry Box Value
To determine the value of an antique or vintage jewelry box, they are first classified as rare or available. Rare chests are more valuable than regular boxes. The value can be increased if the box is in perfect condition and has 100 percent functionality.
The value of an antique and vintage jewelry box keeps rising if it meets any, some, or all of the following criteria:
Custom made
Older than 100 years
Enamel design
Gold material or gold-plated
No scratches
Hand made
Renowned manufacturer
Only design ever made
Good locks or buttons
And other features that confirm it has never been repaired or replaced.
I must state that there are jewelry boxes produced by less common manufacturers with more value than the ones made by famous manufacturers. There is really no set guideline to determine how much your antique would be worth, but if it meets the above requirements, you can be rest assured that it will cost at least $100.
On the other hand, if you have a raggedy-looking jewelry box in poor condition, don't get your hopes up on getting a reasonable sum.
Additionally, it's a good idea to get your antique appraised by different third parties before you settle on the price.
Compare to Recently-Sold Pieces
I almost sold one of my antique pieces (not a jewelry box) after appraising it myself for less than $100. Last minute, I thought to check eBay for an identical piece and how it was priced. There and then, I discovered that I had severely underpriced my antique. Not everyone is that lucky.
Before making that final sale or purchase, always compare prices from online stores like eBay, Etsy, or Amazon. Takes only a few minutes. This act alone could save or make you several hundreds of dollars.
Price guides are another tool for price comparisons but don't forget that market demand influences prices. It would help if you used recent price guides whenever you choose to sell or buy antique and vintage jewelry boxes.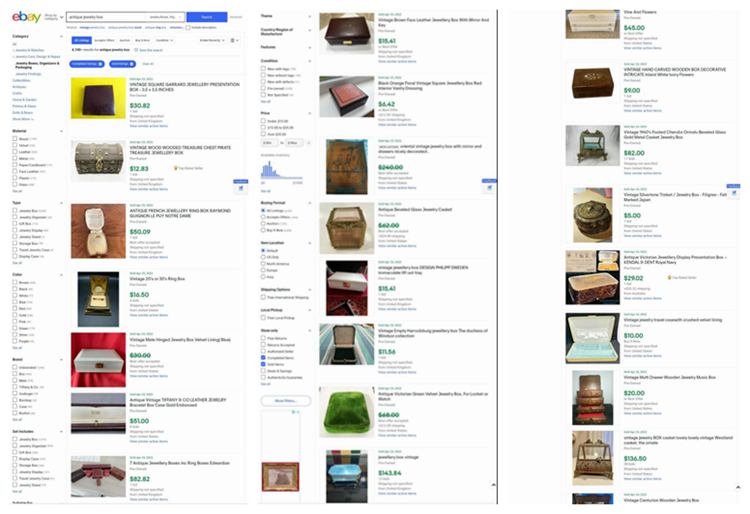 There you have it!
Your vintage jewelry boxes are suitable storage locations irrespective of their size. If you have nothing of worth to store inside these boxes, or perhaps you have excess, you can either sell them off or use them as excellent decorative pieces in your living or workspaces.
Antique and vintage jewelry boxes will remain an attractive and stylish way to protect your valuable and favorite jewelry pieces. I so much wish everyone knows they deserve the experience of owning and caring for an antique work like jewelry boxes.