A couple of months ago, I remembered spending weeks looking for a doll for my younger sister. With a soaring list of requirements, I recall investing a large chunk of time in finding the "perfect piece" that would satisfy her and the enthusiast inside me. Not long after, I got my hands on a vintage Barbie doll at an old garage sale in our neighborhood!
Being an avid collector my whole life, I have always found a deep interest in collectible and antique items; from the more straightforward comic books to the more complex pocket watches and collectible barbies, the particular room in my house has received its fair share of attention.
In the remainder of this article, I will provide insight on vintage dolls, particularly Barbie dolls. I will also be providing a brief history of this symbol of magnificence, the most famous of its models, and a value and price guide in case you're interested in buying/selling pieces by the end of this!
Barbie Doll – A Brief History:
Since her inception, Barbie has been a true fashion icon and a role model for all the young girls demanding her. However, this has not always been the case for parents.
In 1959, Barbie was created by Mattel Inc, a company based in Los Angeles, California. Initially founded by Harold "Matt" Matson, Elliot Handler, and his wife, Ruth Handler, the company quickly grew in popularity and saw a lot of glamors, owing to its winning of the "Mickey Mouse Club" contract.
Ruth Handler was the focal person when it came to spearheading the creation of Barbie. Truly a visionary, she found inspiration in seeing her daughter play with paper dolls. Moved by the simplicity and eloquence, she envisioned a toy that could help young girls practice their nurturing skills while letting them dream bigger. This led to the introduction of our beloved Barbie.
A family trip to Germany in 1956 laid the foundation for Barbie. Roaming the streets with her children, Barbara and Kenneth, Ruth Handler saw a doll lying on the store shelf that resembled the doll she had pictured. It was the Bild Lilli doll; she was based on a comic-strip character and portrayed as an ambitious girl who took bold steps to achieve the impossible. Mrs. Handler bought three pieces home, presenting the dolls to her husband and his chief engineer, who came up with their version.
Based on the German doll, Bild Lilli, Barbie, or named Barbie Millicent Roberts was revealed to the general public at the American International Toy Fair held in New York City on March 9th, 1959. The doll was an instant success among children and quickly became the show's star. The couple presented the 11″ plastic doll wearing a black and white swimsuit, which came in both brunette and blonde hair tied in a ponytail. The doll was named after the Handler's daughter, Barbara. The company sold 300,000 pieces during the first year of its release.
Initially, Barbie's outfit sparked controversy and was deemed as having "too much of a figure" by mothers, who often refused to buy the toy for their children. According to the public, the doll defied natural features and proportions, setting unrealistic beauty standards for society to adhere to. This was because the German doll Lilly was considered a sexy gag gift for adults, and our sweetheart, Barbie, took inspiration from it.
Soon after, under public demand and pressure, Mattel was quick to take advantage of Barbie's success and released another doll, Ken, her long-loved boyfriend. Like Barbie, Ken was named after one of Handler's children, their son. The earliest models of Ken had felt hair, which came in the same colors as its counterpart, Barbie.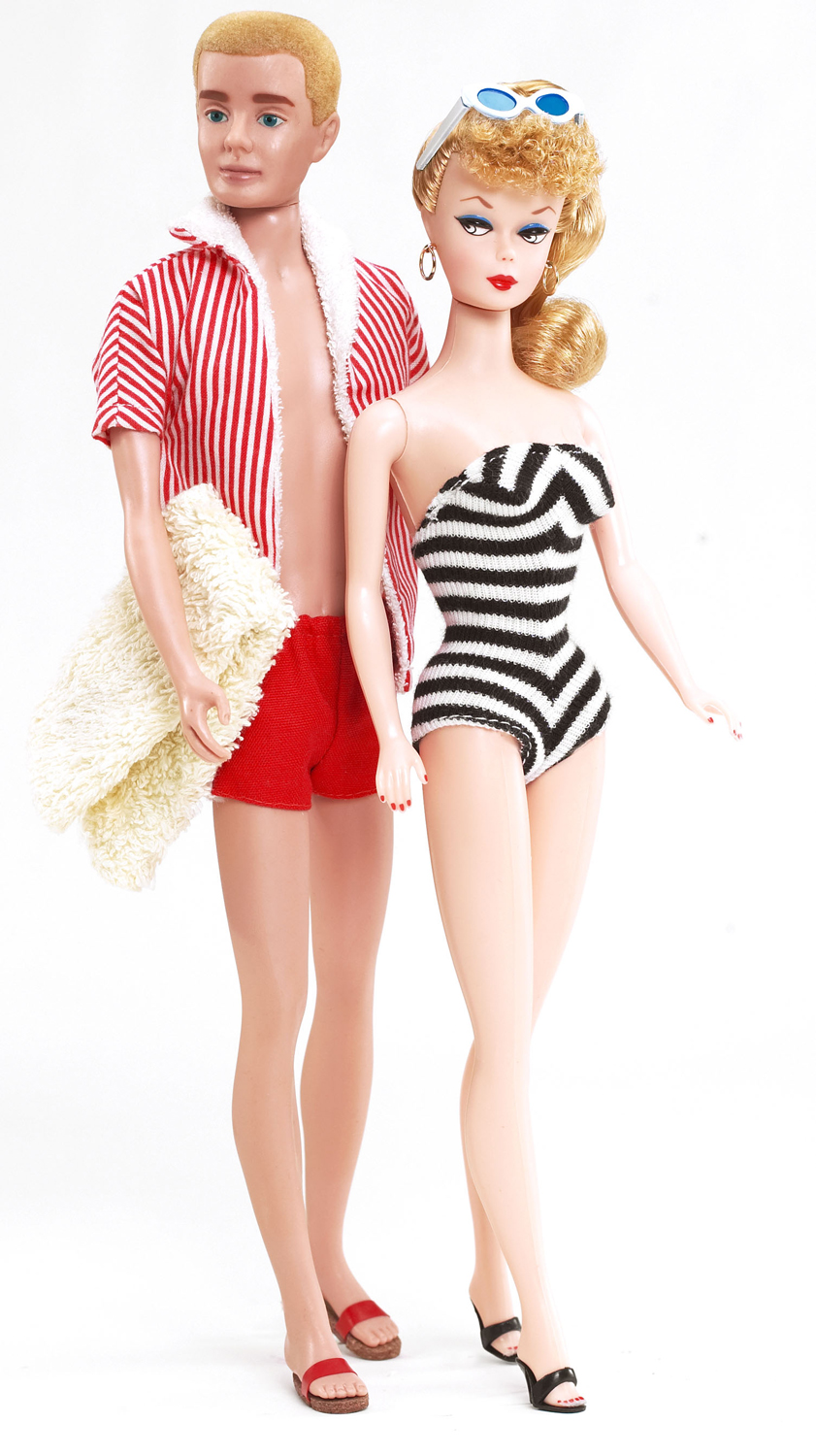 In response to skyrocketing demand, Mattel introduced Barbie's best friend, Midge, in 1963 and her younger sister, Skipper, the following year. Supporting black women, a historical figure of Barbie's friend, Christie, was introduced in 1968. Still, it was not until 1980 that an official African American Barbie was released to the public.
Barbie was a teenage fashion icon from her earliest days at the York toy fair. The company shifted from wrapping Barbie up in her classic bathing suit to legendary designs produced by Christian Dior and Versace. The dolls' outfits and look significantly evolved over time, with multiple designers producing more than 50 looks to choose from; the doll also became a reflection of the fashion industry's growth.
While Barbie is considered a symbol of growth and ambition for young girls, the doll also had an impressive resume. The company broke barriers when it released the first "Barbie Miss Universe" doll in 1965, four years before the actual moon landing by Neil Armstrong. This doll took inspiration from the suits worn by the Mercury astronauts.
In the years to come, over 200 looks of the doll were born, including a Rockstar, doctor, teacher, flight attendant, actress, ballerina, a career girl, an Olympic skier and swimmer, a presidential candidate, and even a UNICEF Ambassador in 1989.
The company also released dolls strikingly similar to celebrities, with the supermodel Twiggy becoming the first to receive a look-alike Barbie. Soon after, many famous faces had the honor of having a doll built exclusively for them, with names such as JK Rowling, Martina McBride, Elvis Presley, Beyoncé, and Barbara Streisand making a list.
The sports industry was no secret when it came to having custom dolls built for them. Owing to the popularity of games, Mattel released a Barbie loves sports collection having Barbie supporting the New York Yankees, Chicago Cubs, and the Los Angeles Dodgers.
Recently, the company has shifted its focus on redesigning Barbie to a version that is less defined by the unrealistic beauty standards of its predecessors and more to an accepting and self-loving image that it claims to portray. To do this, it has released multiple dolls in different body sizes, shapes, and colors that hope to remove the negative emotions associated with the classic dolls.
Barbie Dolls Value and Price Guide:
Regarding antiques and collectibles, you must be well informed of the piece you're thinking of buying and selling. Being educated on the history, make, and details of your object are essential steps that you must take before considering putting them on your shelve or throwing them out of the attic!
Since its birth, several hundred models of Barbie have made their way to the market. As expected, some of the dolls have been built by the thousands, while other limited-edition versions of the toy piece have become a collectors' pulse.
It is vital to know that the company did not manufacture official collectible Barbies until 1986. Still, older models have always attracted interest from enthusiasts and lovers.
To assist you in valuing your doll and estimating its worth, I have developed this extensive guide, so you don't end up selling yourself short!
Identification of the Doll:
Suppose you've found a doll lying in a dusty storage box in your attic or received one from your grandmother as a family heirloom, and you're wondering what it could be worth. In that case, it is crucial that you first identify the piece before listing it. Similarly, many replicas of vintage dolls have been produced, adding to the confusion surrounding the matter.
An online platform that is especially beneficial in identifying your doll is Doll Reference. The site is dedicated to identifying antique dolls based on marks, types, and materials.
Barbie dolls come in various outfits and look; to identify them, you should look for the following features:
Stamps on Parts:
The earliest dolls have "Barbie" stamped on the right hip. This information can be helpful as it provides the date the doll was first patented.
The models produced before 1972 had a "Made in Japan" stamped on the bottom of either foot. Models manufactured afterward were made in Taiwan, Hong Kong, and Mexico and are not as relevant as the Japanese ones.
You should look for Mattel markings at either place, which can be particularly useful in identifying your doll.
Outlook of the Doll:
60s' Barbie:
The earliest models of Barbie, those from the 1960s, had eyes focusing on one side and a borderline seductive outlook. The wardrobe chosen for the doll was a reflection of Paris couture and several teenage fashionistas. 1961 was the year when the eye color of the doll shifted from the traditional black/brown to the modern blue eyes.
Mattel introduced bendable legs in 1965, and in 1967, bought another innovation, the Twist n Turn Barbie, which gave the doll more flexibility.
Some of these models include the original Barbie (1959), Theater Date Barbie (1962), the American Girl Barbie (1965), and the Color Magic Barbie (1966), capable of changing hair color.
70s' Barbie:
The 1970s bought significant improvements to the world of dolls, with forward-facing eyes finding their way to Barbie in 1971. It was also the year that the Growin' Pretty Hair model was introduced, one whose hair could be shortened or lengthened. Similarly, more career versions of the doll were introduced, and in 1977 was when Mattel changed her expression to an exposing smile.
80s' Barbie:
The 1980s' are considered the golden years of technology, with the birth of the internet and many other inventions. The same holds true for Barbie when Mattel introduced the first Barbie dolls of various races, including African-Americans and Hispanics. 1986 also marked the release of the official collectible Barbie dolls, and 1988 was the year Mattel introduced the "American" and "Happy Holidays" series.
90s' Barbie:
The 1990s versions of Barbie began with models designed by the legendary costume designer Bob Mackie. In 1991, the "Bob Mackie Gold Barbie" and the "Gay Parisienne" model was introduced, with "Platinum" and "Starlight Splendor" models released in 1992. The "Great Era" series of dolls was released in 1993, and the 1995 "Goddess of the Sun," 1996 "Moon Goddess," and the 1997 "Harley-Davidson" Barbie made their way to a collector's heart!
Owing to Bob Mackie, this decade was the most influential when it came to collectible Barbie dolls.
The 2000s' Barbie:
The 21st century began with the company linking a doll to the millennium, the Barbie 2000. Another valuable model from 2000 was the Malibu Barbie stealing the spotlight again after it became the James Bond 007 Barbie.
Rarity:
As already mentioned, some dolls were manufactured by several hundred thousand, while others were created in limited quantities. According to experts, some collectible Barbie dolls are especially rare and can rake in vast amounts of greenback for their owners!
Finding out if your doll is rare is a complicated process, so it is essential first to know that since the release of the official collectible Barbies in 1986, Mattel has released dolls categorized into the following groups:
Pink Label Dolls:
These dolls are produced indefinitely and are generally sold at department stores worldwide. They have no value other than the sentiments they hold for their owner.
Silver Label Dolls:
Committed by the company to never producing more than 50,000 of the said pieces, these silver label dolls are sold at selected stores worldwide and are packaged in a silver-trimmed box.
Gold Label Dolls:
Such dolls can only be found at authorized retailers and are produced in a quantity of 25,000.
Platinum Label Dolls:
Mattel reserves this category for dolls that the company created less than 1,000 in number. These dolls are available at exclusive events and fetch the highest prices. The Beaded Gown Barbie and the Splash of Silver are some of the platinum label dolls.
Once you have established the rarity of your piece, you can assess the offers you have received for your piece.
Condition:
This is the most critical factor when estimating the value of any antique. The condition will significantly influence the value of your doll. Collectors will be willing to pay top dollar for a mint condition Barbie than another, which doesn't tick any of their boxes!
To have an idea about the condition of the doll, you should consider looking at the following features:
Hair:
Whether it's rough or smooth, cut or in its natural length. The Barbie doll's original hairstyle and hair accessories significantly affect the value.
Skin:
If your doll's skin is damaged or has marks on it, it will be less valuable. Similarly, if the paint has faded or chunks of it have chipped off, it will reduce the dolls' value.
Clothing:
Assess the tear and stains on the clothing of your Barbie doll. If the clothes are in good condition, they will be valued more than its counterpart.
Odor:
Frankly, no one wants to come near a stinking doll.
Accessories:
Several models of Barbie were released with accessories. Depending on the model, these included doctor kits, kitchen sets, and dollhouses. Suppose your piece has the original accessories present. In that case, collectors will offer much more than a doll with damaged parts and accessories removed or broken.
Original Box Set:
Naturally, all dolls have been loved and played with. Because of this, vintage collectors and enthusiasts love a doll that was never removed from the box. Finding such dolls is extremely rare, so it only adds to the value of vintage Barbie Dolls.
Provenance:
In the case of every antique, it is vital to know its historical significance of it. A piece with some historical importance attached to it will fetch a much higher price than a piece with no apparent historical findings.
This also stands true for Barbie dolls, with the original 1959 Barbie doll in mint condition selling for $27,750. On average, the 1959 model brings in about $8,000 for its owner.
Carefully studying and comprehending all the above factors can help you in the valuation process of your collectible Barbie doll.
Price Guides:
To better understand the market demand, it can be beneficial to compare the price of your doll with other dolls sold in the past. A Barbie collector price guide proves to be highly resourceful in this regard. They provide a list of what dolls have been sold in the past and also actively aid in the identification process.
Examples of such price guides are :
Online Sources:
With the development of the internet, online markets have proven to be highly beneficial when it comes to buying and selling. Sitting at home and getting help from experts on the matter has never been easier. So, while valuing your doll, you can use the following platforms to get a reasonable estimate of what it might be worth:
BarbieDB: The website is a free guide to estimating how much your Barbie doll is worth and is not involved in buying/selling dolls.
Doll Values: DollValues lists the updated prices of vintage dolls based on the data it receives through auctions and online retailers. It can be a handy resource for identifying and assessing your doll.
Buying Vintage Barbie Dolls:
When buying Barbie dolls, it is crucial to consider all the factors mentioned above and look for the best piece you can afford. Some places you can get your hands on vintage dolls are auctions and antique stores, collectible toy stores, fleas markets, and garage sales.
Similarly, online sources that are beneficial are:
Toys of Another Time: This source specializes in vintage dolls from the 1960s and '70s. The website claims to reunite many of its users with their old dolls and heirlooms so you can use them to purchase an authentic vintage Barbie doll safely.
Etsy: Etsy provides an extensive marketplace you can rely on. With thousands of ads posted in its "vintage section," you can buy your antique piece here!
eBay: eBay is another online platform you can use to find vintage Barbie dolls and accessories. It is beneficial to find pieces from all over the world.
Most Expensive Barbie Dolls Ever Sold:
To give you an idea of what your collectible Barbie doll might be worth, some of the most expensive Barbies ever sold were:
Stefano Canturi Barbie: Fetching a whopping price of $302,500 at an auction, it was the most expensive Barbie doll ever sold. The model was a special edition designed by the legendary designer Stefano Canturi, who used unique emerald-cut Australian pink diamonds encircled with 3 carats of white diamonds. The entire amount was graciously donated to the Breast Cancer Research Foundation.
Barbie and the Diamond Castle: This piece was a tribute by Mattel to the animated movie. The doll's diamonds were estimated to be worth $94,500.
De Beers 40th Anniversary Barbie: Selling for a high price of $84,000, this doll was an exclusive collaboration between the maker, Mattel, and De Beers jewelry.
Other rare models sold for extremely high prices include the original Barbie, Barbie in Midnight Red, Pink Diamond Barbie, Easter Parade Vintage Barbie Ponytail, Lorraine Schwartz Barbie, and Karl Lagerfeld Barbie. You can find a comprehensive list here!
Final Thoughts:
Barbie dolls form an extensive network of vintage collectible items loved by enthusiasts. Whether you're a doll-lover willing to go the extra mile to find your unique piece, or a parent looking to find a Pink Label standard doll, you must do your research before spending an amount.
So, the next time you dust your attic or find yourself surrounded by dolls in a garage sale, remember to read up well!